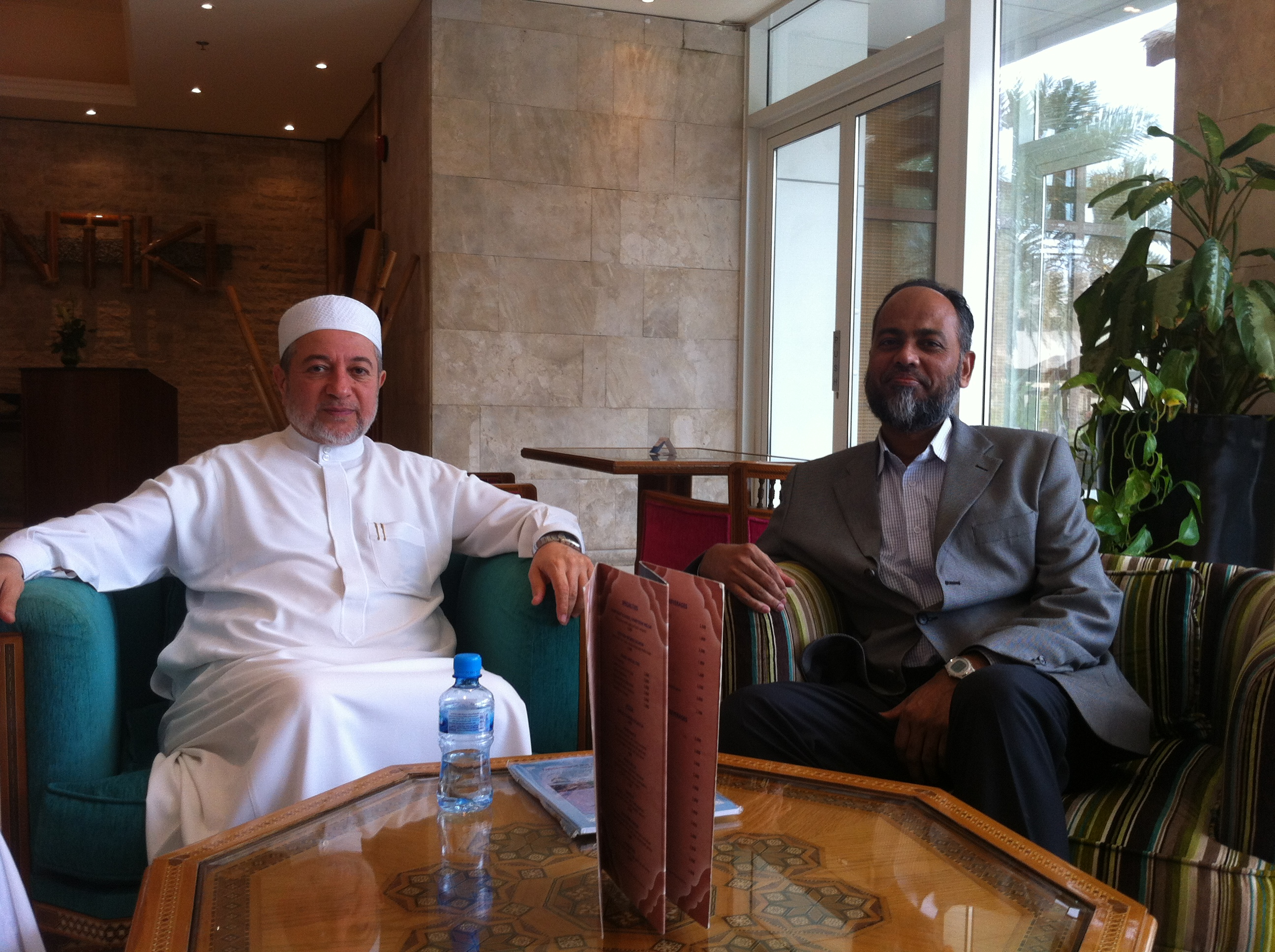 Brother Abdulraheem with the famous Quran teacher Qari Ayman Suwaid, who was very pleased with the UQA approach to teaching the Quran.
When Abdulazeez Abdulraheem addressed the audience of scholars at the Second International Conference for Teaching the Quran in Bahrain last week, he presented Understand Quran Academy's poem designed to teach the right pronunciation of Arabic letters. When he recited the poem many asked him to repeat it. As he complied, they whipped out their mobile phones and started recording him.
An Innovative Approach
"People liked our innovative approach," Abdulraheem explains. "They liked the poem, they liked the way we teach with salah, and they liked our Total Physical Interaction (TPI)."
The purpose of the conference was to present the Prophet (pbuh)'s method of teaching the Quran, in view of historical records and also in consideration of modern techniques, and Dr. Abdulraheem had been invited to present Quran Academy's teaching methods.
"My talk was on 28th April," says Abdulraheem. "It was called  'A Creative Program for Teaching Arabic to Non-Arabs.'"
Abdulazeez Abdulraheem with Shaikh Basfar (left), president of the Holy Qur'an Memorization International Organisation.  
Making Connections
Brother Abdulazeez was particularly grateful for the opportunity to network with other scholars and teaching organizations. One of his more fruitful acquaintances was with Shaikh Basfar, president of the Holy Qur'an Memorization International Organisation (HQMI), a charitable organization affiliated with the Muslim World League.
The HQMI, which is based in Jeddah and which receives both moral and financial support from the royal family, provides support, scholarships, and opportunities to Quran memorizers in five continents. Basfar was very pleased with the UQA teaching approach and asked to show it to his team to see if it could be implemented for Huffaz.
Brother Abdulazeez Abdulraheem receives a plaque from Shaikh Abdullah Bin Khalid Aal-Khalifa, Chief of Islamic Affairs. On the left is the Secretary General of the World Muslim League, Dr. Abdulllah bin AbdulMohsin al-Turki. 
What might this mean for Quran Academy? "A recognition by the international body of scholars," says Abdulraheem, "that our method indeed is innovative and authentic, alhamdulillah. Different scholars and organizations are now asking us to help them in implementing the program.  May Allah accept our humble efforts."
Be pious scholars of the Lord because of what you have taught of the Scripture and because of what you have studied. [from Al-Quran, 3:79]