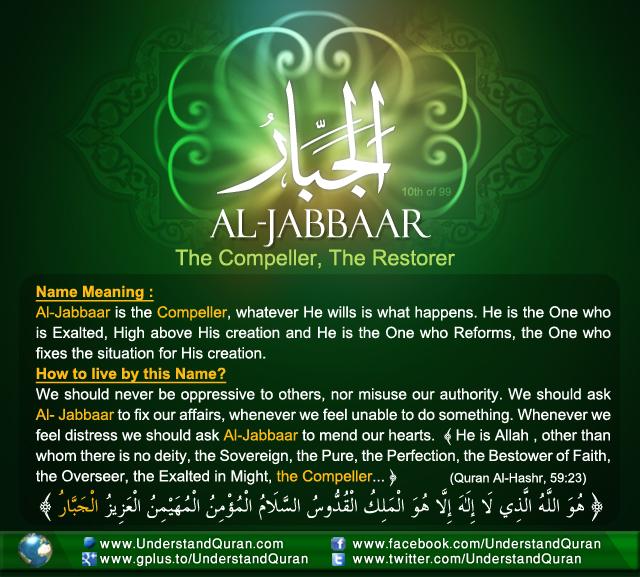 Allah calls Himself Al-Jabbaar— The Compeller, The Restorer— on one occasion in the Quran. He is the One who compels all things according to His will. Al-Jabbaar is the Highest One, who irresistibly restores, repairs, and completes all of creation!
The Compeller, The Restorer, The Greatest

Jabbaar comes from the root jeem-baa-raa which points to three main meanings. The first main meaning is to compel and force someone to do something and the second is to be supreme and high. The third main meaning is to repair, to mend, or to restore something.
This root appears ten times in the Quran in one derived form. Examples of this form is jabbaaran ("a tyrant"), bijabbaarin (" the one to compel") and jabbaareena (" of tyrannical strength").
Linguistically, jabbaar has the structure of intensification. Jaabir points to one who compels or restores and jabeerah is used for a splint, to help broken bones. Al-Jabbaar is the ultimate compeller; whatever He wills happens. He is the highest and the One who fixes the situation for His creation.
Al-Jabbaar Himself says: He is Allah , other than whom there is no deity, the Sovereign, the Pure, the Perfection, the Bestower of Faith, the Overseer, the Exalted in Might, the Compeller. [Quran, 59:23]
Three types of jabr
Jabbaar occurs ten times in the Quran, but is only used once for Allah 'azza wa jall. Nine times jabbaar refers to the people oppressing others and only Allah is al-Jabbaar in a positive sense. His might is in the sense of power; Al-Jabbaar is the One who compels the tyrants, overwhelming them with His power and might.
His might is in the sense of mercy; Al-Jabbaar mends the broken-hearted by restoring peace of mind as well as reward if they are patient. And the heart of Musa's mother became empty [of all else]. She was about to disclose [the matter concerning] him had We not bound fast her heart that she would be of the believers. [Quran, 28:10] Allah Al-Jabbaar mended her heart and so is He comforting to the oppressed and firm with the unjust; both Fir'awn and the mother of Musa 'alayhi sallam will deal with Al-Jabbaar. He is the One Who solaces and comforts the oppressed and punishes the tyrants and arrogant.
His might is also in the sense of greatness; Al-Jabbaar is far above His creation, yet close to them, hearing and seeing all they say, do, and even think.
How can you live by this name?
1. Reflect on how Al-Jabbaar compels you.
Al-Jabbaar compels you by creating you in the way He wills you to be. You are compelled to accept your form and shape as well as the beating of your heart, your blood circulation, firing nerve cells, the way your brain works, falling asleep, and waking up. These are all involuntary actions– they are compelled by Allah's power. Every day, take time to reflect on the way you are made and let it increase you in emaan in the perfect power and might of Al-Jabbaar, Who compels the creation to be as He wishes.
2. Don't be jabbaar.
The attribute of jabr does not befit people; you are supposed to be an 'abd (slave) of Al-Jabbaar. Jabbaar is not just tyrant ruler; you can be jabbaar when you harm or hurt other people's feeling or undermine their authority. Thus does Allah seal over every heart [belonging to] an arrogant tyrant. [Quran, 40:35].
An example is not listening to your parents and hurting them by your words or actions. And your Lord has decreed that you not worship except Him, and to parents, good treatment. Whether one or both of them reach old age [while] with you, say not to them [so much as], "uff," and do not repel them but speak to them a noble word. [Quran, 17:23]. So never be arrogant.
3. Mend someone's heart.
If you have oppressed someone, ask for their forgiveness straight away. If you see people suffering, try to talk to them and show them your care. Mend someone's heart because Al-Jabbaar will mend yours in times of need.
4. Turn to Al-Jabbaar to fix your faults.
Do you feel like you don't have enough times or skills to accomplish your goals? Never lower your standards; rather raise your faith in Al-Jabbaar to fix your deficiencies, put your life in order, and transform your sins into good deeds! Seek shelter in Him from all your distresses; take this as a general rule in your life.
5. Ask Al-Jabbaar.
The Prophet salallahu 'alayhi wa sallam used to say between two prostrations in prayer: O Allah, forgive me, have mercy upon me, guide me, support me, protect me, provide for me and elevate me [Abu Dawood, Ibn Majah, At-Tirmidhee] Wajburnee refers to "reform or fix" my affairs.
The Prophet salallahu 'alayhi wa sallam also said in prostration and bowing: How perfect He is, The Possessor of total power (jabaroot), sovereignty, magnificence and grandeur [Abu Dawood] Memorize these supplications so you can benefit from them.
O Allah, Al-Jabbaar, we know that You are the One who compels and restores and who is Highest. Mend our hearts when we are distressed and protect us from oppression and from being oppressive to others. Make us obey Your commands willingly, and enable us to reach all our goals which are pleasing to You, ameen!
And Allah knows best.
The Understand Quran Academy Team
PS: Did you already sign up for our newsletter? Sign up now and receive the free welcome gift to the series The Names of Allah!