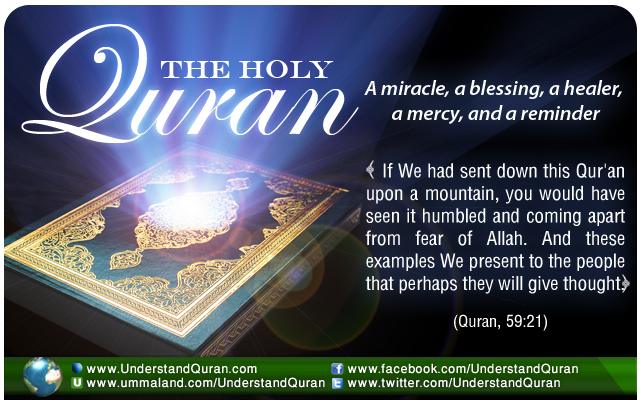 See the rock-born stream!
Like the gleam
Of a star so bright
Kindly spirits
High above the clouds
Nourished him while youthful
In the copse between the cliffs.
Young and fresh.
From the clouds he danceth
Down upon the marble rocks;
Then tow'rd heaven
Leaps exulting . . .                             ~ from "Mahomet's Song" by Johann Wolfgang von Goethe
We have to admit that the direct influence of the Quran on Western literature has been greatly eclipsed by that of the Old and New Testaments (but these also, the Quran tells us, were originally the words of Allah) because of the widespread acceptance of Christianity in the West. But in spite of the fact that the Islam was not widely read in Europe and North America and that translations were not readily available until recently, the influence of the Quran on Western literature is significant.
Here are just a few great figures in Western literature whose work would not have been the same had they not studied the Quran as well as those whose work would not have been the same were it not for classical works of Arabic literauture which were themselves inspired by the Quran.
1. Johann Wolfgang von Goethe, 1749 –1832, Germany. While making the Quran's first translation into German, Goethe fell in love with the language of the Quran, but he was also attracted to the meaning of the Message; the concept of tawheed and the presence of Allah in His creation were two concepts that form a major part of Goethe's work. But let's hear what he had to say:
It soon attracts, astounds, and in the end enforces our reverence . . . Its style, in accordance with its contents and aim is stern, grand – ever and always, truly sublime . . . So, this book will go on exercising through all ages a most potent influence.  [Johann Wolfgang von Goethe]
2. George Bernard Shaw: The great English playwright had this to say about Islam: "I have very carefully studied Islam and the life of its Prophet (PBUH). I have done so both as a student of history and as a critic. And I have come to conclusion that Muhammad (PBUH) was indeed a great man and a deliverer and benefactor of mankind which was till then writhing under the most agonising Pain."
3. Jalal al-Din Muhammad Balkhi: True, he was a middle eastern Muslim, but Rumi is one of the most influential poets in the West today. His poems are better known by Americans than they are in his native country (what's now Afghanistan) or Persia where he grew up. He's influenced numerous poets and thinkers in the west. His view of the Quran was mystical, meaning that he sought the deeper, metaphorical meanings as opposed to the literal, superficial meanings. A number of Western celebrities embrace his poetry, including Martin Sheen, Goldie Hawn, Demi Moore, and Madonna. Many of his Western followers don't even know that Rumi was a strict Muslim, a teacher, a shaiykh, a scholar, his inner world presided over by his best friend, the Quran.
4. Omar Khayyam: Another major Muslim poet whose books have had a major impact in the United States was Ghiyath al-Din Abu'l-Fath Umar ibn Ibrahim Al-Nisaburi al-Khayyami, better known as Omar Khayyam, a mathematician and poet who lived in the 11th and 12th centuries. His "Rubaiyat" was first translated into English in 1859 and soon became known as a classic.
The following writers come under the heading of those deeply influenced by this and other literary classics based on the Quran, notably A Thousand and One Nights.
Edgar Allan Poe
Herman Melville
Washington Irving
Marcel Proust
James Joyce
Charles Dickens
Robert Louis Stevenson
Hans Christian Andersen
Lord Byron
Voltaire
If great Muslim and nonMuslim thinkers the world over could be so inspired by such a book, what's keeping you from being enlightened and informed by it today?
May your mind be opened and your heart enriched,
The Understand Quran Academy Team